Bayern pow chronicle: Hörnerbahn
Another week has gone by with at least 50 cm of new snow in most of the Alps. Avalanche danger is high due to winds and heavy snow fall so it's time to explore some smaller ski resorts. After quite a bit of wepowder and google maps searching I decided to try out a small ski resort called Hörnerbahn few kilometers North from Oberstdorf near Bolsterlang in Bayern, Germany.
I had never ever heard of the ski resort before, but it is low enough to be protected by forest from top to bottom and has several ski routes and a few prepared pistes. The lifts go from 900 to 1700 meters which sounds good since there is a good snow base all the way to the bottom of Oberstdorf valley. And it's only mid December!
Piste map, screenshot from Bergfex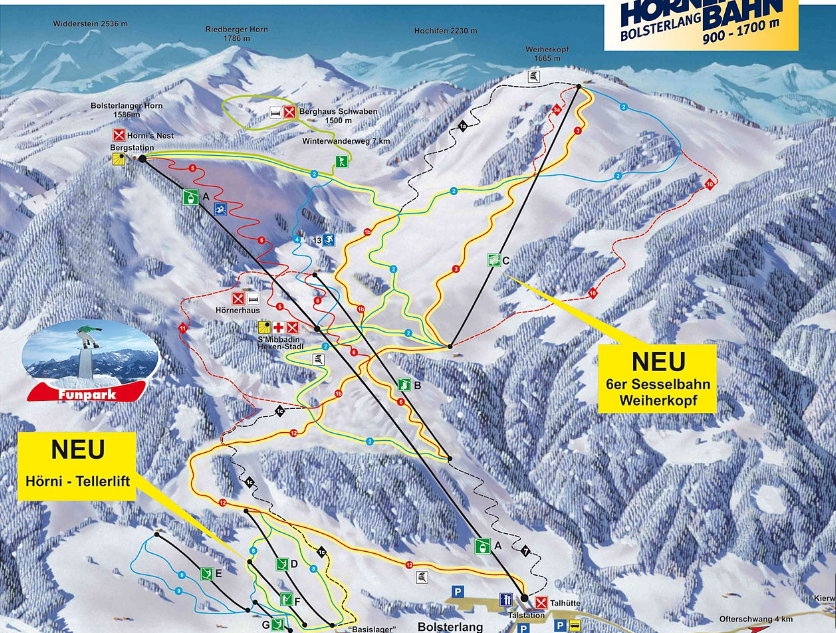 A short drive on Saturday morning from Ulm and I'm already parking on the front row of the resort at 8:30. Weather is clowdy with snow showers so most people stay home this weekend. Day ticket is not very cheap for a small resort at 38 €. At the ticket counter there is naturally a print of the daily avalance bulleting from Lawinenwarndienst Bayern which says level 2 for below tree line and 3 above.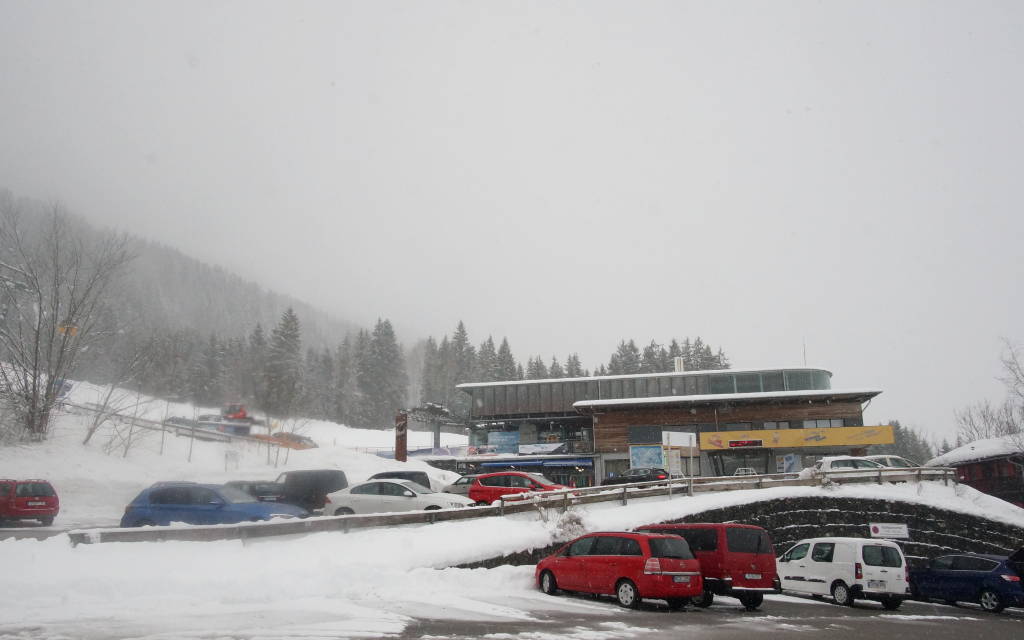 Most of the new snow came a few days ago, but from the lift I can see that there is also white untouched canvas left next to the slopes to draw some lines.
As was visible from the piste map, there are a lot of openings between the trees. Here's a view from a short traverse from the top of skiers right side gondola. A nice and steep opening with 50 cm of fresh snow above a blue piste. It's steep enough that on every turn a spray of snow goes over my head.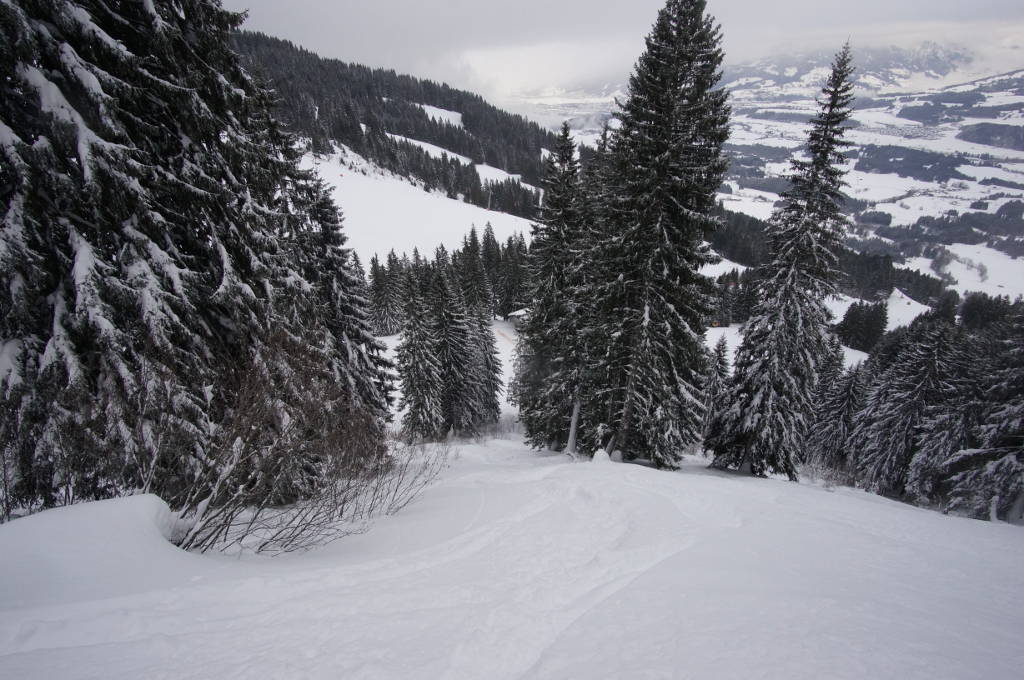 Sadly my GoPro Hero4 Black had again decided to empty its battery overnight so I'm left with rusty DSLR skills and a dull soon-to-be-replaced Thinkpad keyboard to record this day. So bear with me, ok?
The idyllic looking Hörnerhaus restaurant is at the exit of the steep pow run next to the piste, but I have no intentions to check it out. There is fresh snow everywhere!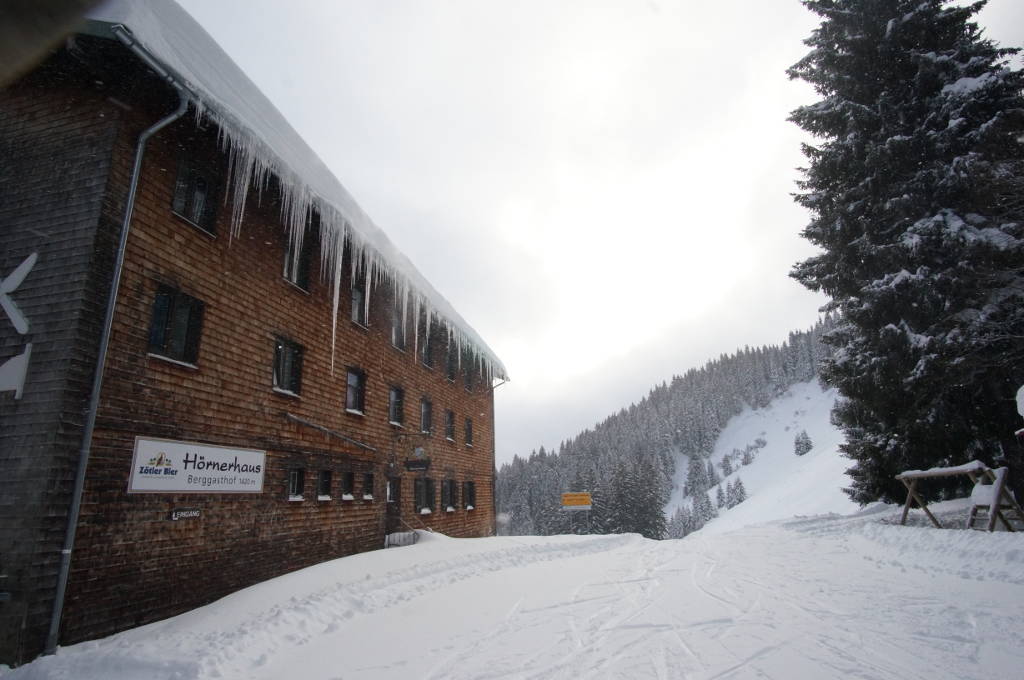 Behind the house starts the ski route 11 which is already quite tracked, so I resort to exploring the area right below it. Bingo. Pow fields without tracks. Not steep but mellow and nice. A few trees and another opening brings me to the piste number two.
I stop for a moment to think and rewind what I saw from the lift. Yes, two turns on the piste and a right turn into a dark forest. There is enough snow cover for nice some turns despite the thick trees.
There must be an exit here, and there was an untracked field after this. Right?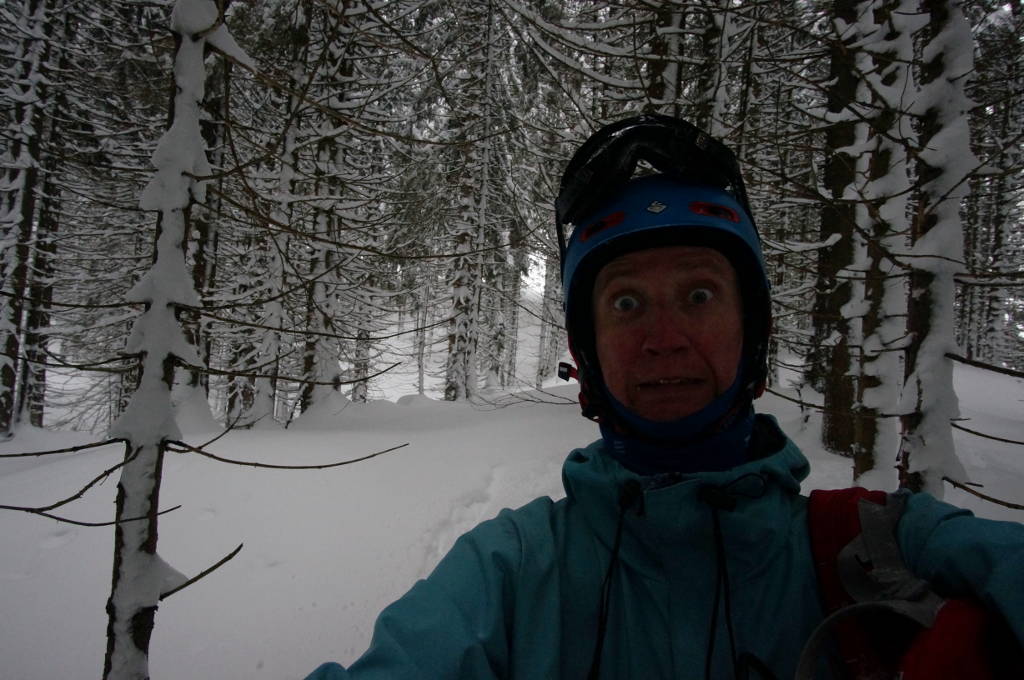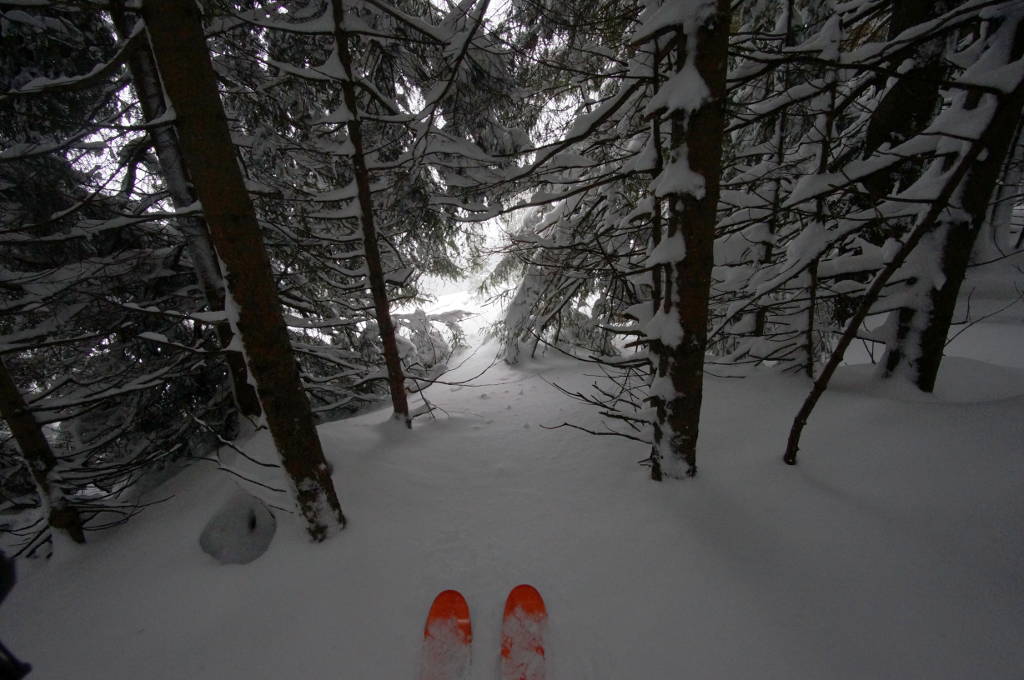 Jack Pot! I should play Lotto today. Another opening with 10 or so mellow turns in knee deep new snow and I'm back at the piste. But only for one turn. Then another stint between pistes opening up tracks towards the cable car. Few turns under the gondola and ski route next to it and I'm at the bottom ready for another round. I take a sip of tea and a bite of müslibar to keep energy levels high. It's gonna be a long day.
I follow these tracks four to five times. Lost the count at some point. Skiing alone next to my own tracks. Time for something else. Lets check what's around the 6 person chair lift on the other side. The lift is newer. More powder hunters here skiing the forest around it. But right under the lift there are untracked patches. That'll do. Three, four laps go by skiing under the lift between forest and openings. Knee deep. Next!
Skiers left from the chair lift goes a track on the ridge. At the top it's prepared but turns into narrow and long traverse track between the trees. It goes to the valleys on skiers left and -- boom -- it opens up.
One or two hundred vertical meters of pow fields down. Short traverse to skiers right following the tracks and there is another opening. Waat!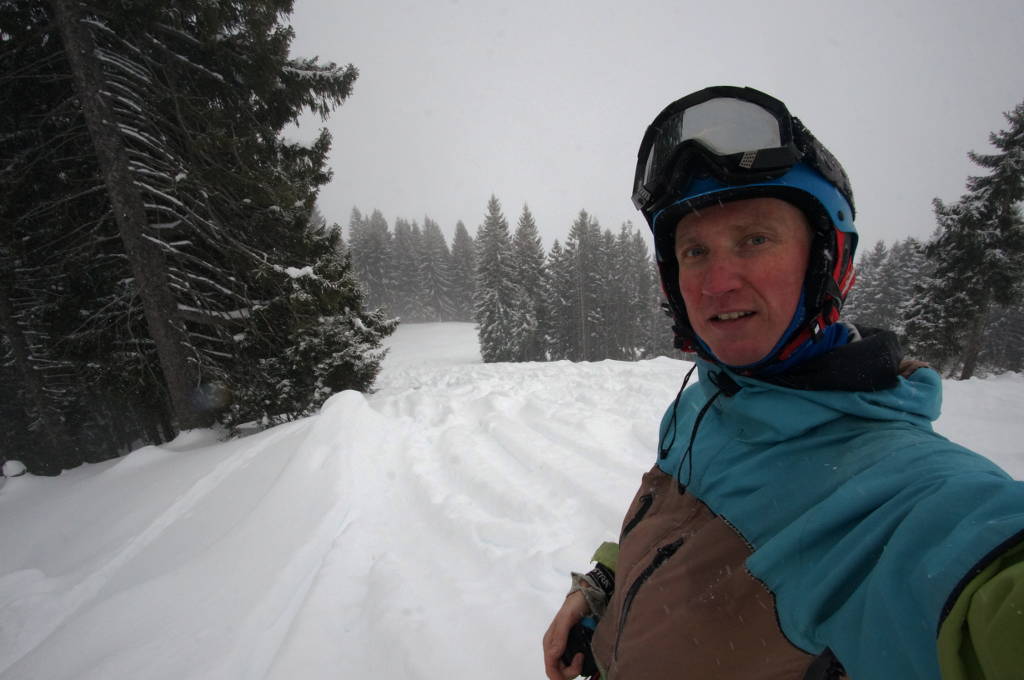 The openings follow one after the other. There were a few houses or animal shelters as well and eventually the track ends at a dam. Ski tracks go over the narrow bridge so I follow them.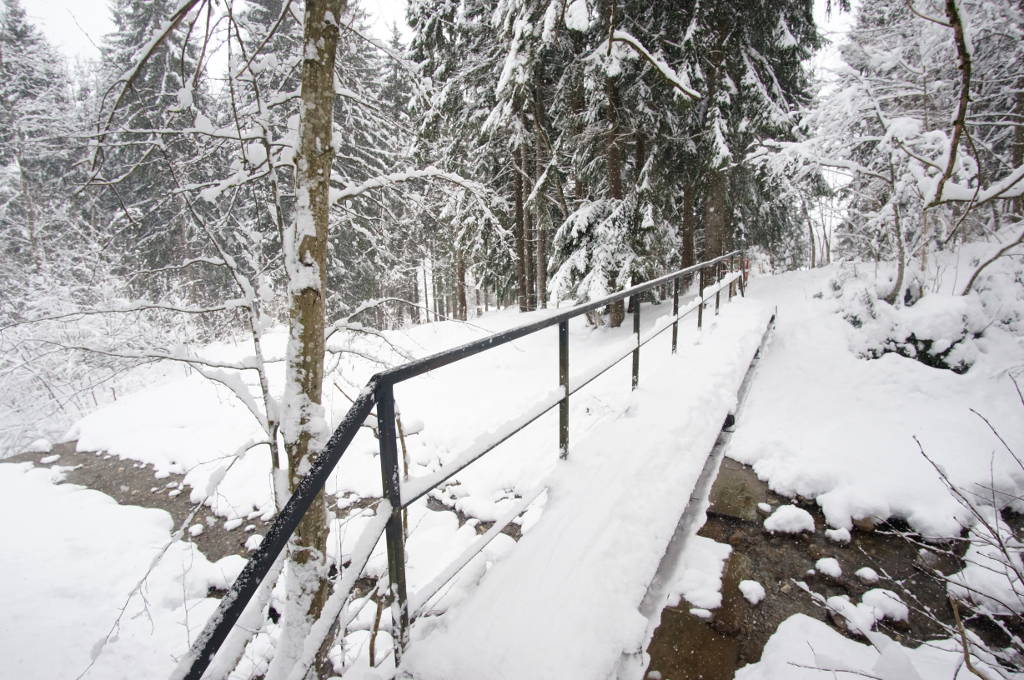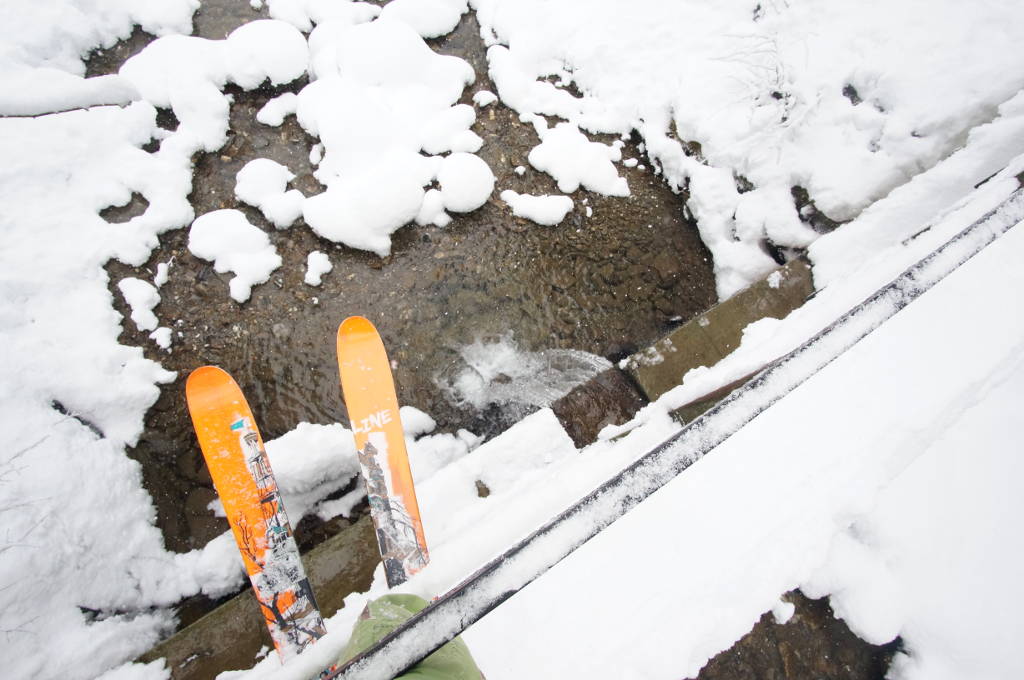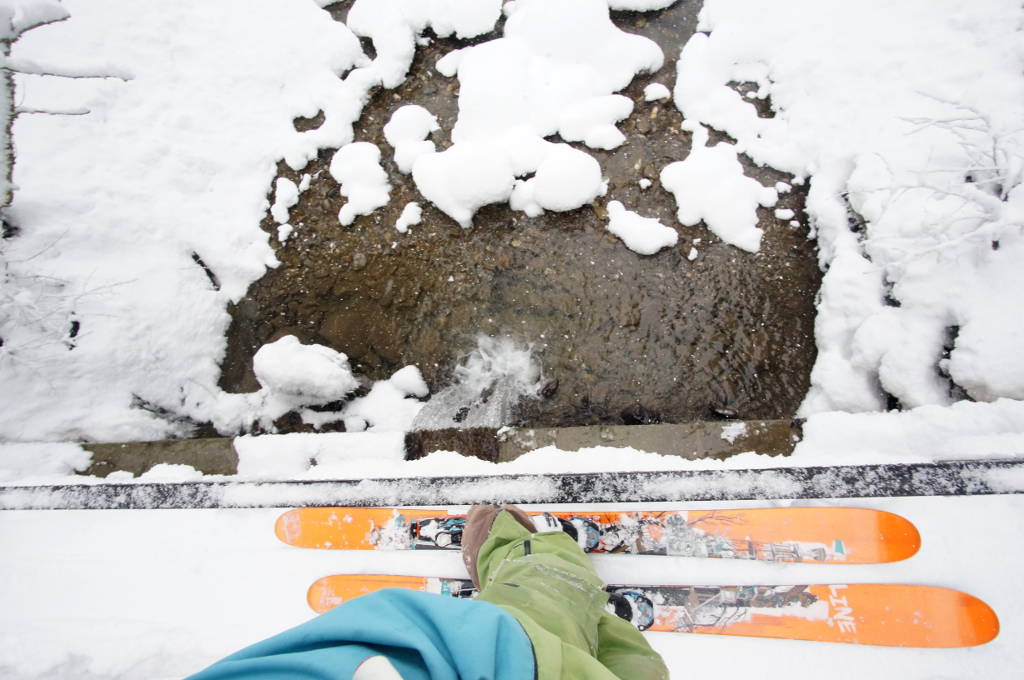 Track exists the forest back at the bottom gondola station. Top to bottom pow! Lets do that again! And again! Four or so laps go by and I only saw one snowboarder on the traverse at the top. Amazing!
I get bored of following the route and leave out a few traverses to the right. Four or five ski tracks take a more direct route down and I decide to follow them. Another set of powder fields open in the forest. Second to last was perfect but then I realize I'm too low to traverse back to the lift. But the tracks go down so I'm sure there is an exit... with mushrooms?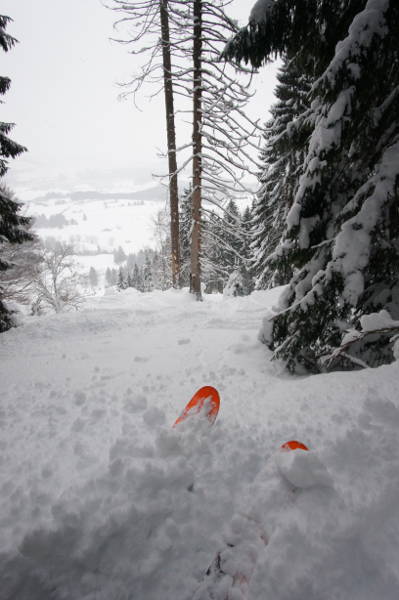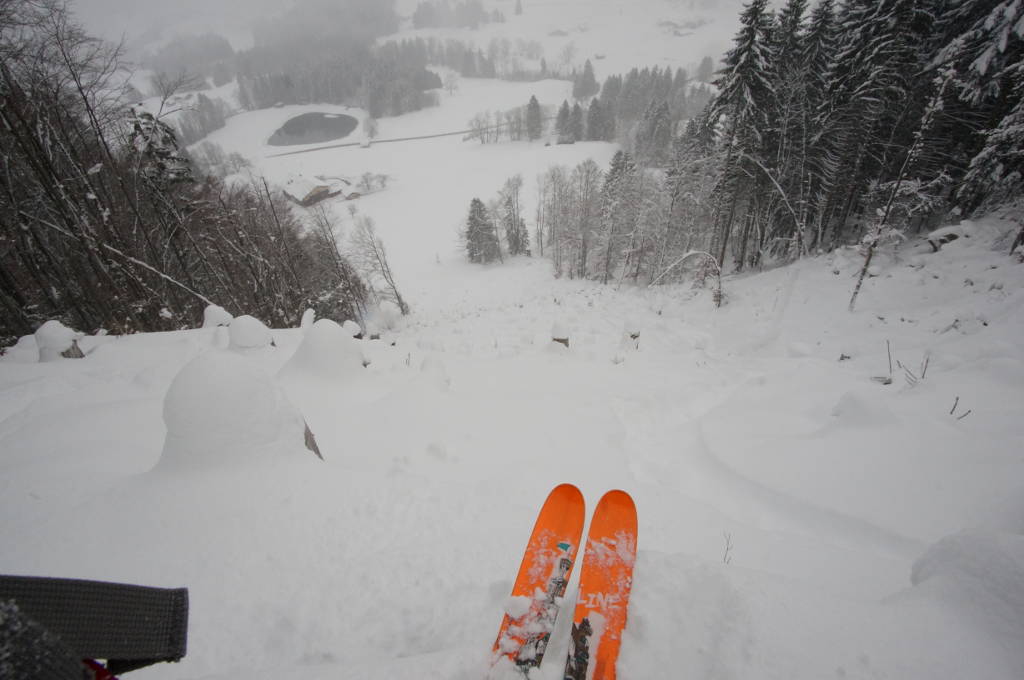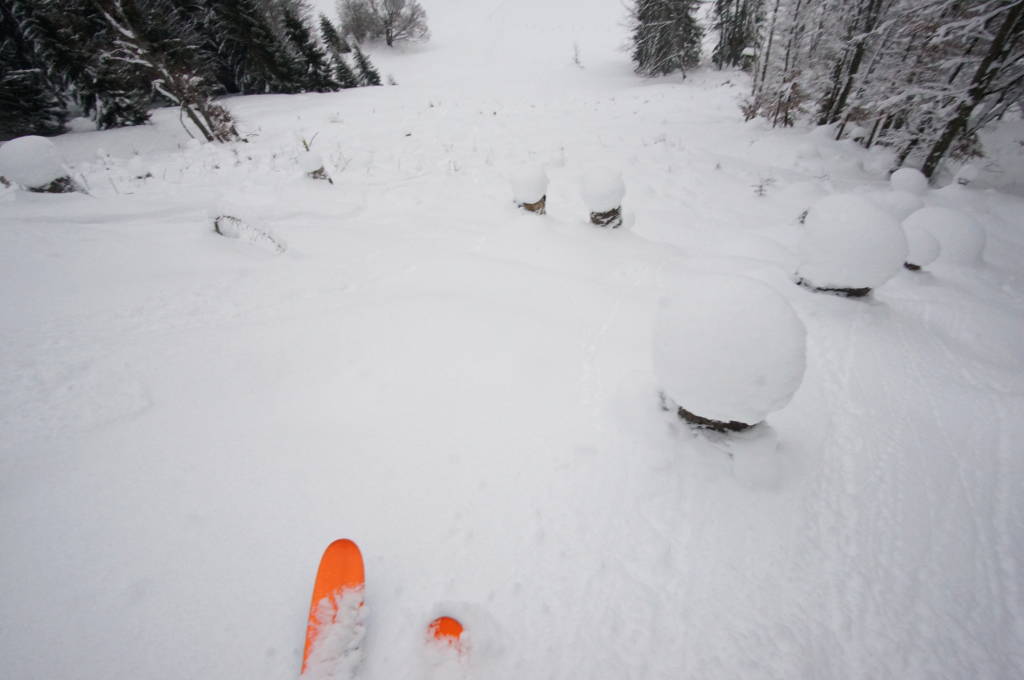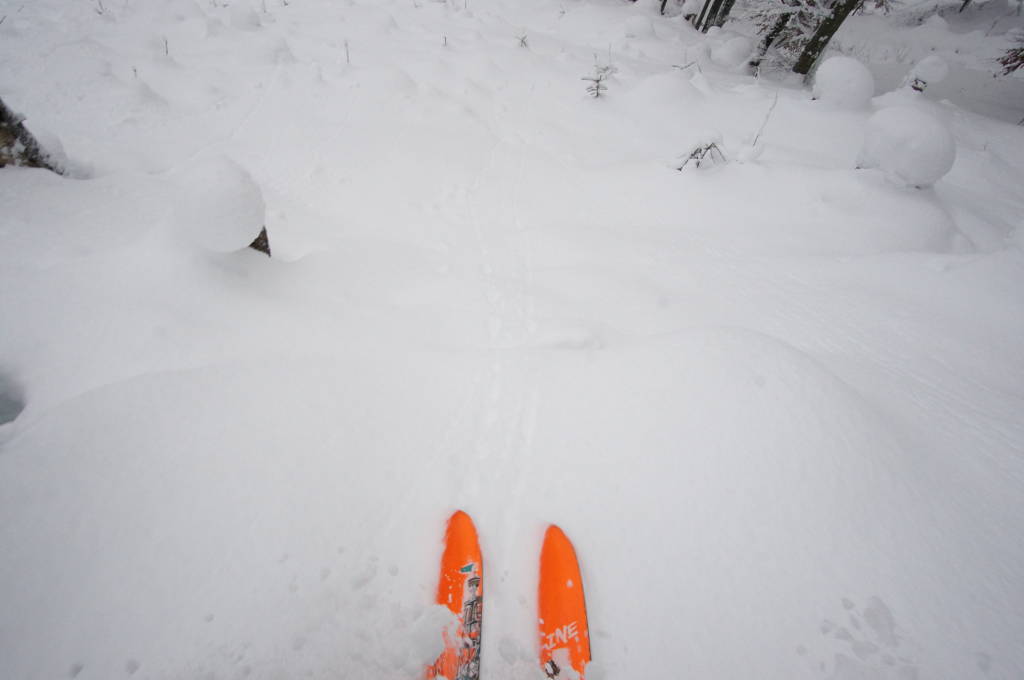 Yes, with mushroom! Tree trunks and stumps covered with snow! How funny is that! They are soft all the way to a field which has an icy cover on top. I traverse to skiers right on the field crossing barb wires and end up on the crossing to the ski resort.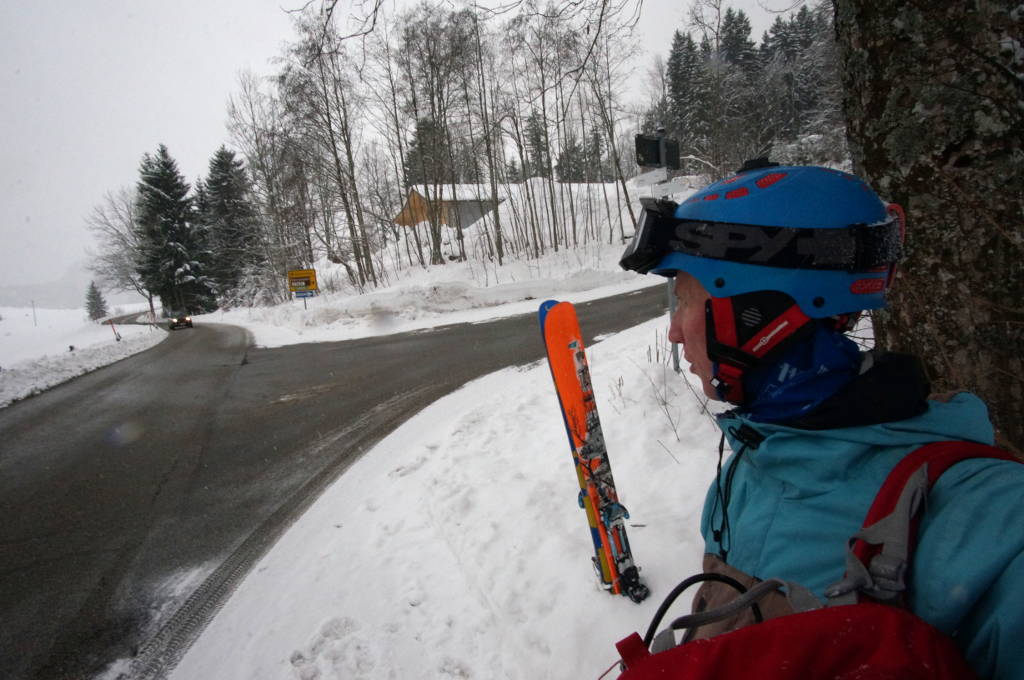 A 10 minute hike brings me back to the gondola bottom station. Tea, snack, open jacket to let the steam out. Another lap begins. And another one, and one more until it's 20 past 2 in the afternoon and my legs are feeling it. I'm skiing without poles due to the broken finger so knee deep pow is slightly more energy consuming.
Step out of steamy ski boots. Throw skis into the car. Exchange wet outer layer to comfy pants and driving back home. On the autobahn towards Kempten it's snowing again. Like. A. Lot.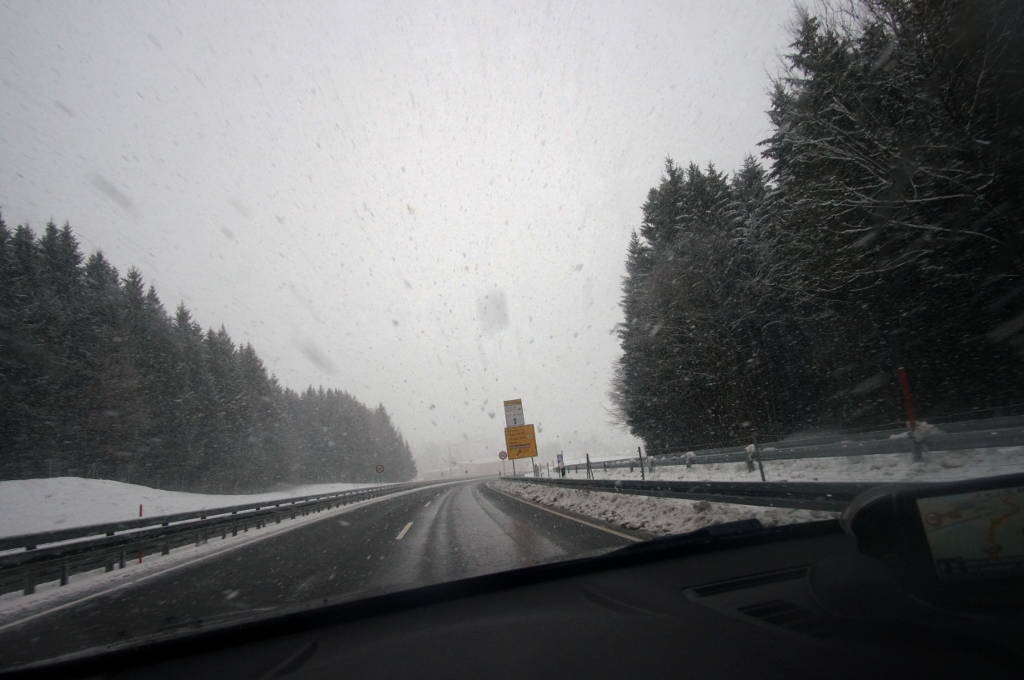 -Mikko